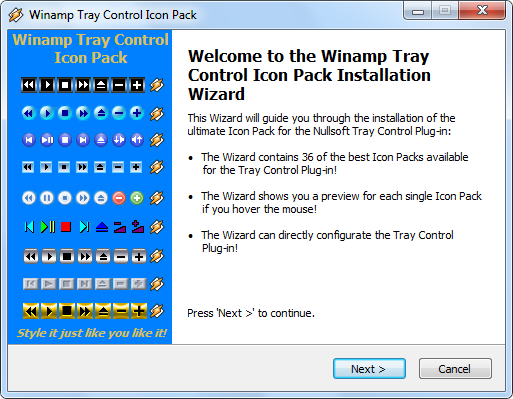 Description
Bored with the default icons which are bundled with the Nullsoft Tray Control plug-in? Do you want some kick-ass icon packs? Well here is the deal. This installer contains the best icon sets which are available on the web. Just run the small application and style it just like you like it!

The default Icons in Winamp Tray Control Plug-in are not really nice. Other people feelt the same, and since that plug-in was part of the Winamp SDK, people started compiling their own versions of the plug-in with an own set of icons. The main problem was the compatibility, if a newer version of the official plug-in was released, the old modified plug-ins were broken or could conflict with newer Winamp installs.

DrO implemented Icon Pack support support in the Tray Control plug-in, so that you could simply change the icons directly from within the plug-in. We started then to rip out the icons from the many plug-ins and worked with many of the original authors to create an icon pack installer.
Features
contains 36 of the best icon packs available for the Tray Control Plug-in!
Installer shows you a preview for each single icon pack if you hover the mouse!
You can directly configurate the Tray Control Plug-in from within the installer!
installer is available in several languages:!
Localization
The installer is fully translatable. If you want to translate the installer into your language, download and translate the above example file. Please read careful the info provided in the language file.

You can send me your language file via mail or if you have xlat access, simply upload it to xlat.
The file was optimized for Notepad++.
Download
| | |
| --- | --- |
| Download: | Winamp Tray Control Icon Pack |
| Version: | 3.5.3 (Build 1096) |
| File Size: | 468 KB |
| Release date: | 04-01-2023 |
| SHA256 checksum: | 36026b3864a82fdf5bb5b3713accced5831cd73abfc25c990244476803a35d3c |
| Included languages: | |
| License: | Freeware (for non commercial use only) |
| System requirements: | Windows XP or higher, Winamp 5.57 and above |