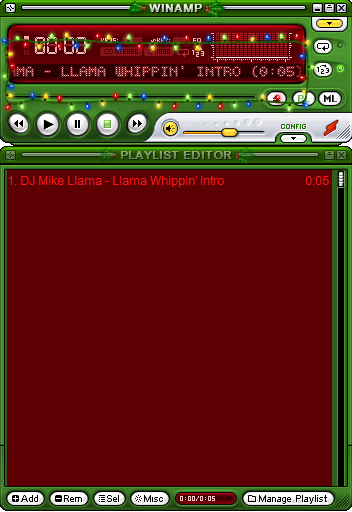 Description
The Skin was original created by the old Winamp developer team as Christmas gift in 2003 (10 years later!). It's based on the default 'Winamp Modern' Skin which was introduced in Winamp 5.0.

I've updated the skin in 2013 as a small christmas gift for the community. This includes all features and bug fixes of the current Winamp Modern skin.

Along with new visualization options and an album art window it should improve the compatibility with newer Winamp versions. Take a look at the changelog for a complete list

All credits go to the original authors.
Download
| | |
| --- | --- |
| Download: | Winamp Modern Holiday Skin 2013 |
| Version: | 1.2.1 |
| Release date: | 01-12-2014 |
| SHA1 checksum: | 1ac57772b7ef5c009a9dcfa6212104b65529f0ad |
| License: | Freeware (for non commercial use only) |
| System requirements: | Windows XP SP3 or higher, Winamp 5.5 and above |